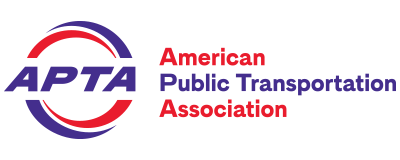 TRANSform Conference On-Demand
Register

Member - $495
Non-member - $995
Access 26 sessions from the premier public transportation event, APTA's TRANSform Conference.

Our excellent speakers were professionally recorded, and you can view them all in one package that includes: 15 CEU certified educational sessions, keynote speaker Chef Jeff Henderson on hiring a loyal and diverse workforce, NASA Astronaut Dr. Cady Coleman on quality team building, a federal update from FTA Administrator Nuria Fernandez and FRA Deputy Amit Bose, and so much more.
TRANSform Conference attendees have full access to these sessions for 90 days, and everyone else can now benefit from the great lessons learned at APTA's biggest event.
Recorded On: 11/10/2021

Please join us as we kick off the last day of our event with a high energy keynote message from Chef Jeff Henderson.

Please join us as we kick off the last day of our event with a high energy keynote message from Chef Jeff Henderson.

Known around the world as "Chef Jeff", Jeff Henderson is an award-winning American chef, New York Times bestselling author, philanthropist, TV personality, and acclaimed international speaker. Jeff started his illustrious culinary career in the unlikeliest of places - federal prison. While serving nearly ten years, he discovered a passion for cooking. Using prison as a catalyst for self-transformation, after his release in 1996 he worked his way up from a dishwasher to the first African American Chef de Cuisine at Caesars Palace. Following the publishing of his bestselling memoir, cookbooks, and self-help story, Chef Jeff travels the world teaching his life-changing lessons and working with at-risk young people through his non-profit.
General Session sponsored by BYD Motors, Inc.


Opening Remarks


Matthew O. Tucker, Executive Director, North County Transit District, Oceanside, CA

Sponsor Recognition


Frank Girardot, Senior Director of Communications, BYD North America, Los Angeles, CA

Keynote Address: "If You Can See It, You Can Be It"


"Chef Jeff" Henderson, Award-Winning Celebrity Chef, Best-Selling Author, Entreprenour, Motivational Speaker, Newport Beach, CA

Closing Remarks


Paul P. Skoutelas, President and CEO, American Public Transportation Association, Washington, DC

Recorded On: 11/08/2021

Attend this General Session to learn about our federal partners' current initiatives and priorities.

Attend this General Session to learn about our federal partners' current initiatives and priorities. The session will begin with a fireside chat between FTA Administrator Nuria Fernandez and FRA Deputy Administrator Amit Bose on the state of the industry, COVID-19 funding, Administration priorities, and IIJA opportunities. This will be followed by a panel discussion of top government officials discussing all aspects of safety.

Presiding


Jeffrey A. Nelson, Chair, APTA; CEO/Managing Director, Rock Island County Metropolitan Mass Transit District (MetroLink), Moline, IL

Fireside Chat
Featured Speakers


Hon. Nuria I. Fernandez, Administrator, Federal Transit Administration, Washington, DC
Hon. Amit Bose, Deputy Administrator, Federal Railroad Administration, Washington, DC

Moderator


Joseph J. Giulietti, Commissioner, Connecticut Department of Transportation, Newington, CT

Panelists


Stephen J. Gardner, President, AMTRAK, Washington, DC
Gregory K. Hynes, National Legislative Director, SMART Transportation Division, Washington, DC
Jeffrey Rosenberg, Director of Government Affairs, Amalgamated Transit Union, Silver Spring, MD
Polly Hanson, Senior Director - Security, Risk and Emergency Management, American Public Transportation Association, Washington, DC

Recorded On: 11/08/2021

This Opening Session will address the association's initiatives to support the industry as it adapts to the dual challenges of preparing for tomorrow while delivering high-quality service for the present-day. These remarks will be followed by a thought-provoking keynote address from Dr. Cady Coleman.

This Opening Session will address the association's initiatives to support the industry as it adapts to the dual challenges of preparing for tomorrow while delivering high-quality service for the present-day. These remarks will be followed by a thought-provoking keynote address from Dr. Cady Coleman.

Dr. Cady Coleman is a former NASA Astronaut and U.S. Air Force Colonel with more than 180 days in space, accumulated during two space shuttle missions and a six-month expedition to the International Space Station. On the ground at NASA, she served in a variety of roles within the Astronaut Office, including chief or robotics, lead for tile repair efforts after the Columbia accident, and lead astronaut for integration with NASA's commercial partners. Her work paved the way for commercial spaceflight collaborations that are now common. In her keynote, Dr. Coleman will draw from her time at NASA and in extreme "remote work" situations to discuss team building, leadership, and innovation.

Keynote speaker sponsored by the APTA Business Members

Opening General Session sponsored by AECOM




PresidingPresiding Officer


Paul P. Skoutelas, President and CEO, American Public Transportation Association, Washington, DC

Welcome Remarks (via video)


Hon. Pete Buttigieg, Secretary of Transportation, U.S. Department of Transportation, Washington, DC

Chair's Message


Jeffrey A. Nelson, Chair, APTA; CEO/Managing Director, Rock Island County Metropolitan Mass Transit District (MetroLink), Moline, IL

Host Welcomes


Hon. Jerry L. Demings, Chair, Board of County Commissioners and Mayor, Orange County, Orlando, FL
Hon. Buddy Dyer, Mayor, City of Orlando and Chairman, LYNX - Central Florida Regional Transportation Authority, Orlando, FL
James E. Harrison, Chief Executive Officer, LYNX - Central Florida Regional Transportation Authority, Orlando, FL

Sponsor Recognition


Diane H. Cowin, SVP Director Global Transit – Americas, AECOM, Oakland, CA

Keynote Sponsor Recognition


Eve Williams, President/Chief Executive Officer, Dikita Engineering, Dallas, TX

Keynote Speaker


Dr. Cady Coleman, former NASA Astronaut and Air Force Colonel, STEM Advocate, Washington, DC

Includes Credits

Recorded On: 11/09/2021

Our panel will discuss these and other possibilities to help determine how data can be the tool for improving network performance and service to the customer.

The digital world brings with it an abundance of data. How can we assure high-quality of data? How do we determine what should be made open? How can open architecture and integration make riding transit simpler and more cost-effective for transit agencies and riders? Our panel will discuss these and other possibilities to help determine how data can be the tool for improving network performance and service to the customer.

Moderator


Jeff Hiott, Vice President - Imagination, Research, & Industry Benchmarking, Capital Metropolitan Transportation Authority, Austin, TX

Panelists


Andy Walker, Commercial Director, Ito World, Cambridge, United Kingdom
Eric R. Reese, President / CEO, Bytemark, Inc., New York, NY
Norman K. Tuitavuki, Chief Operating Officer, Monterey-Salinas Transit, Monterey, CA
Gretchen Newcomb, Director, Partnerships North America/Australasia, MobilityData International Organization, Hood River, OR

CEUs: 1.5 Planning

Includes Credits

Recorded On: 11/08/2021

Our panel will probe these and other real estate trends and their implications on public transportation, and discuss how the transit industry and its partners can work together to create communities and mobility networks that will be stronger, more sustainable, resilient, customer centric, and equitable.

Trip patterns will continue to be impacted by the return of downtowns, the longevity of work-at-home trends, and the choices people and employers make about where they choose to live and work. Our panel will probe these and other real estate trends and their implications on public transportation, and discuss how the transit industry and its partners can work together to create communities and mobility networks that will be stronger, more sustainable, resilient, customer centric, and equitable.

Moderator


Dr. Joshua Schank, Ph.D., Chief Innovation Officer, Los Angeles County Metropolitan Transportation Authority, Los Angeles, CA

Panelists


Eulois Cleckley, Director and CEO, Department of Transportation & Public Works, Miami-Dade Transit, Miami, FL
Monica G. Tibbits-Nutt, AICP, LEED AP BD+C, Director, Massachusetts Bay Transportation Authority, Boston, MA
Tanya Wilder, Director of Transportation, City of Orlando Transportation Planning Bureau, Orlando, FL
Charles Di Maggio, Chief Executive Officer, Greystone Management Solutions, New York, NY
Karina Ricks, Associate Administrator for Research, Demonstration and Innovation, Federal Transit Administration, Washington, DC

CEUs: 1.5 Planning; 1.5 Engineering

Recorded On: 11/10/2021

Your organization is committed to diversity, equity, and inclusion, and is putting the operational elements in place. As a leader, whether you are a CEO, senior executive, or transit board member, how do you provide consistent vision and direction and remain congruent with the DEI values of your organization?

Your organization is committed to diversity, equity, and inclusion, and is putting the operational elements in place. As a leader, whether you are a CEO, senior executive, or transit board member, how do you provide consistent vision and direction and remain congruent with the DEI values of your organization? What do you do to educate yourself on historical and current equity challenges and to connect to what DEI means to your team, your customers, and your stakeholders? What does authentic engagement truly look like?

---------------------------------------------------
Visit https://www.apta.com/transform-tcrp to access TCRP-related documents

Session sponsored by HNTB Corporation

Moderator


Flora M. Castillo, C.H.I.E., President, Pivot Strategies, LLC, Ventnor, NJ

Panelists


Dorval R. Carter, Jr., President, Chicago Transit Authority, Chicago, IL
Jannet M. Walker-Ford, Senior Vice President & National Transit & Rail Business Line Leader, WSP USA, Jacksonville, FL
Jacquelyn Dupont-Walker, Board Director, Los Angeles County Metropolitan Transportation Authority, Los Angeles, CA

Includes Credits

Recorded On: 11/09/2021

This interactive session will explore current and future opportunities to address workforce concerns as they relate to the electrification of the transit bus fleet. Session participants will identify where the needs are for current and future workers in the industry, what skills workers need to be successful, and how the lack of workers and skills could impact the industry.

This interactive session will explore current and future opportunities to address workforce concerns as they relate to the electrification of the transit bus fleet. Session participants will identify where the needs are for current and future workers in the industry, what skills workers need to be successful, and how the lack of workers and skills could impact the industry.

The expert panel of transit agency executives and APTA business members will discuss current success attracting adults and youth to the transit industry, identify career opportunities at all levels of the industry, and explain how agencies and OEMs working together can attract future workers to the industry.

---------------------------------------------------
Visit https://www.apta.com/transform-tcrp to access TCRP-related documents

Moderator


Ken Mall, Managing Director, Workforce Consulting, Educational Data Systems, Inc., Dearborn, MI

Panelists


Kirt Conrad, Chief Executive Officer, Stark Area Regional Transit Authority, Canton, OH
Brad Miller, Chief Executive Officer, Pinellas Suncoast Transit Authority, St. Petersburg, FL
Sheila Jordan, Managing Partner, Knowledge Architects, LLC, Mableton, GA
Emmanuelle Toussaint, Vice President Legal, Regulatory and Public Affairs, Nova Bus, Plattsburgh, NY
Mike Finnern, VP, Customer Success, Program Management & Transit Product Management, Proterra Inc., Greenville, SC
Stephanie Wiggins, Chief Executive Officer, Los Angeles County Metropolitan Transportation Authority, Los Angeles, CA
Pamela J. Nabors, President/Chief Executive Officer, CareerSource Central Florida, Orlando, FL

CEUs: 1.5 Engineering


Includes Credits

Recorded On: 11/10/2021

Our panel will present case studies on building transit-oriented communities with equity as an essential outcome.

Affordable housing is integral to the planning of transit corridors. E-TOD builds equitable communities, maximizes ridership, and serves our core market. The pandemic has made clear who are the essential workers and what are the essential destinations. As we build back better, transit agencies will be more focused on expanding communities for these persons and places. Our panel will present case studies on building transit-oriented communities with equity as an essential outcome.

---------------------------------------------------
Visit https://www.apta.com/transform-tcrp to access TCRP-related documents

Session sponsored by HDR

Moderator


Collie Greenwood, Deputy General Manager, Operations and Urban Planning, Metropolitan Atlanta Rapid Transit Authority, Atlanta, GA

Panelists


Jeffrey A. Parker, General Manager/CEO, Metropolitan Atlanta Rapid Transit Authority, Atlanta, GA
Catherine LaFata, AICP, CTP, Transit Market Sector Lead, HDR, Oakland, CA
Kammy Horne, AICP, Senior Vice President of Development and Planning, VIA Metropolitan Transit, San Antonio, TX
Christine Beckwith, PE, MBA, Assistant General Manager, Transit Systems Development, Metropolitan Council, St. Paul, MN

CEUs: 1.15 Planning

Includes Credits

Recorded On: 11/09/2021

Join this compelling discussion on rethinking how transit's value is measured and communicated to customers, the general public, and business and political leaders. What new metrics and practical tools are available and how are they being applied to tell a more comprehensive story?

The pandemic has shown communities across North America that transit is essential to keeping our economy moving and providing vital access each day to jobs, healthcare, education, and other basic needs. Traditionally, however, transit's success has been quantified by how many passengers we carry rather than the true economic, social, and environmental benefits we provide to the broader community, both for those that use transit and those who do not. Join this compelling discussion on rethinking how transit's value is measured and communicated to customers, the general public, and business and political leaders. What new metrics and practical tools are available and how are they being applied to tell a more comprehensive story?

Moderator


John M. Lewis, Jr., Chief Executive Officer, Charlotte Area Transit System, Charlotte, NC

Presenter


Dr. Cecilia Viggiano, Principal, Transit, EBP, Boston, MA

Discussants


Hon. Oliver G. Gilbert, III, Vice Chairman, Board of County Commissioners; Chair, Miami-Dade Transportation Planning Organization, Miami, FL
Robbie Makinen, President & CEO, Kansas City Area Transportation Authority, Kansas City, MO
Khaled Jamil Shammout, Vice President, Strategic Planning & Transit Development, Southwest Ohio Regional Transit Authority(SORTA)/Metro, Cincinnati, OH
Dr. Adiele Nwankwo, Managing Partner, Cincar Consulting Group LLC, Atlanta, GA
Aileen Boucle, AICP, Executive Director, Miami-Dade Transportation Planning Organization, Miami, FL

CEUs: 1.5 Planning


Includes Credits

Recorded On: 11/10/2021

Join this compelling discussion on rethinking how transit's value is measured and communicated to customers, the general public, and business and political leaders. What new metrics and practical tools are available and how are they being applied to tell a more comprehensive story?

The pandemic has shown communities across North America that transit is essential to keeping our economy moving and providing vital access each day to jobs, healthcare, education, and other basic needs. Traditionally, however, transit's success has been quantified by how many passengers we carry rather than the true economic, social, and environmental benefits we provide to the broader community, both for those that use transit and those who do not. Join this compelling discussion on rethinking how transit's value is measured and communicated to customers, the general public, and business and political leaders. What new metrics and practical tools are available and how are they being applied to tell a more comprehensive story?

Moderator


David M. Stackrow, Sr., CPA, Treasurer, Capital District Transportation Authority, Albany, NY

Presenter


Mark R. Aesch, Chief Executive Officer, TransPro Consulting, Spring Hill, FL

Discussants


John M. Lewis, Jr., Chief Executive Officer, Charlotte Area Transit System, Charlotte, NC
Robbie Makinen, President & CEO, Kansas City Area Transportation Authority, Kansas City, MO
Caitlin Vargas, Board Member, Lane Transit District, Springfield, OR
Kevin J. Holzendorf, Immediate Past Chair - Board of Directors, Jacksonville Transportation Authority, Jacksonville, FL
Carmino N. Basile, Chief Executive Officer, Capital District Transportation Authority, Albany, NY

CEUs: 1.15 Planning